Transcendent Moments in 20th Century African-American Cinema by Mykki Newton
Larry Gates and Sidney Poitier in In the Heat of the Night (1967)
So many African-American artists have made significant contributions to the history of American cinema, but every so often their work transcends the art of filmmaking and makes a powerful impact of society. These are just a few of those moments which standout because of the times in which they were created. Some may seem a bit commonplace in the 21st Century, but in the context of American history, they are extraordinary.




Oscar Micheaux (1918)
Oscar Micheaux began a transcendent moment the moment he picked up a camera. He created the first African-American film company and is considered the most successful African-American filmmaker of the first half of the 20th Century. He directed more than 40 films, but none garnered as much attention as his second silent feature, Within Our Gates (1920). It was released just months after tremendous racial violence in Chicago and prompted fears of more violence. Instead, Within Our Gates presented an honest portrayal of African-American life during the Jim Crowe era. Although banned in most Southern cities, the film did shine a light on the injustice and violence faced by African-Americans after
World War I.


Within Our Gates (1920)
"It is only by presenting those portions of the race in my pictures, in the light and background of their true state, that we can raise our people to greater heights."
-Oscar Micheaux




Oscar Micheaux produced films for contemporary black audiences, but in 1933 a black actor was cast in the lead role of a non-race film for the first time. The actor and the role could not have been better suited for each other. Paul Robeson gave what is considered his greatest cinematic performance in The Emperor Jones. The film was a box office disappointment, but it cemented Robeson's powerful presence on screen and in the minds of a worldwide audience. The Emperor Jones not only presented a leading black character to white audiences, it also presented a leading black character with far more depth and strength than ever before. Mainstream audiences of the time were accustomed to seeing African-Americans in servant roles or as savages. Paul Robeson was the force of nature who could show White America a black man as an equal and have absolutely no fear about it.


Paul Robeson in The Emperor Jones (1933)
"To be free . . . to walk the good American earth as equal citizens, to live without fear, to enjoy the fruits of our toil, to give our children every opportunity in life--that dream which we have held so long in our hearts is today the destiny that we hold in our hands."
-Paul Robeson




Louise Beavers and Fredi Washington in Imitation of Life (1934)
When Louise Beavers took a black woman's emotions to the forefront in a major Hollywood picture in Imitation of Life (1934), her performance resonated across racial lines. That was not what the censors at the Hays Office expected. It was the character of Peola, the daughter of Beavers' character, that concerned censors the most. She is a young black woman with Caucasian ancestry who wants to pass for white. That threatened the censors' boundaries on how racial differences should be address in films, not to mention the subject of interracial relationships. Imitation of Life managed to squeeze through those boundaries and touch the public consciousness.


"Imitation of Life ended up having just this extraordinary impact on the African-American community, because it was really the one Hollywood film of the Depression era that suggested there was such a thing as a contemporary race problem in America."
-Donald Bogle, film historian




Joan Blondell and Louise Beavers in Bullets or Ballots (1936)
When Louise Beavers touched Joan Blondell's hair two years later in the 1936 gangster film, Bullets or Ballots, it was profoundly symbolic for the time. It signified a black woman and a white woman were equals. Sure, they both ran illegal gambling operations, but they considered each other equals in business and in their friendship.






Hattie McDaniel Wins the Oscar in 1940
February 29, 1940 is a date that changed the perception of African-American actors in Hollywood. Unfortunately, it did not change the opportunities and roles offered to those actors. Still, there is no denying the cultural significance of Hattie McDaniel winning the Academy Award for Best Supporting Actress in Gone with the Wind (1939). She was the first African-American to win an Oscar.
Actress Whoopi Goldberg, herself a Best Supporting Actress Oscar-winner, once described McDaniel's characterization of Mammy, the house servant slave in Gone with the Wind as "the smartest person in the movie."
Hattie McDaniel (1941)
"The only choice permitted us is either to be servants for $7 a week or to portray them for $700 per week."
-Hattie McDaniel
Lena Horne and Eddie Anderson in Cabin in the Sky (1943)
Cabin in the Sky (1943) is a transcendent moment in African-American cinema because it was a major studio film (MGM) with an all-black cast and was praised by the NAACP for avoiding clichés and racial stereotypes. Unfortunately, that positive image didn't always reach the general public. One theatre in Portland, Oregon promoted the film by having its staff dress in blackface and gingham, and despite the film's star power of Ethel Waters, Eddie Anderson, and Lena Horne, many theaters, mostly in the South refused to show it.


Ethel Waters in Cabin in the Sky (1943)
"Negroes are human beings with exactly the same faults and virtues as members of the other races."
-Ethel Waters








Juano Hernandez in Intruder in the Dust (1949)
Juano Hernandez was an African-American film pioneer in his own right as an actor and he also worked with fellow pioneer, Oscar Micheaux. In 1949, he played Lucas Beauchamp a rich Southern black man accused of murdering a white man in Intruder in the Dust. The film was based on the William Faulkner novel and is significant because of its exploration of Southern racism.
Hernandez received a Golden Globes New Star of the Year nomination for his performance and William Faulkner called him a "fine actor…and man, too."


"His performance and extraordinary presence still rank above that of almost any other black actor to appear in an American movie."
-Donald Bogle, film historian








Dorothy Dandridge in Carmen Jones (1954)
Dorothy Dandridge became a worldwide phenomenon when she starred in the title role of Carmen Jones (1954). She became a legend when that role made her the first African-American nominated for a Best Actress Oscar.
The censors were outraged by the character's seeming lack of morals and "over-emphasis on lustfulness." Dandridge would later famously say, "If I were white, I could capture the world."
In 1999, Halle Berry played Dandridge in the television film, Introducing Dorothy Dandridge. It won her a Primetime Emmy and a Golden Globe Award. When Berry became the first African-American to win a Best Actress Oscar for Monster's Ball (2001), she acknowledged a long overdue Academy Award first, made possible my Dorothy Dandridge's nomination almost 50 years earlier.


Dorothy Dandridge at the Academy Awards (1955)
"I never thought about whether she would win or not, I would have loved if she had won, because I think her work was quite extraordinary. But it was an important nomination long overdue."
-Diahann Carroll, actress








Sidney Poitier at the Academy Awards (1964)
No actor has had more transcendent moments on film than Sir Sidney Poitier. In fact, his entire legacy is transcendent…from being chained to Tony Curtis in The Defiant Ones (1958), to becoming the first African-American to win an Oscar for Best Actor, to surprising his fiancée's parents in Guess Who's Coming to Dinner (1967), and delivering the slap heard round the world in In the Heat of the Night (1967).




Tony Curtis and Sidney Poitier in The Defiant Ones (1958)
Sidney Poitier and Lilia Skala in Lilies of the Field (1963)
Larry Gates and Sidney Poitier in In the Heat of the Night (1967)
When Poitier's character, Detective Virgil Tibbs slapped to the most powerful, richest, and racist white man in Sparta, Mississippi play by Larry Gates, it was a shocking nationwide awakening to the changing times in America. It proudly ushered in the final three decades of the 20th Century, which produced an unprecedented emergence of transcendent African-American film artist such as Melvin Van Peeples, Morgan Freeman, Gordon Parks, Whoopi Goldberg, Spike Lee, Denzel Washington, Angela Bassett, John Singleton, and the Hughes Brothers. They brought a new consistency to realism in American cinema which permeated the consciousness of a nation.


"I think black people have to be in control of their own image because film is a powerful medium. We can't just sit back and let other people define our existence."
-Spike Lee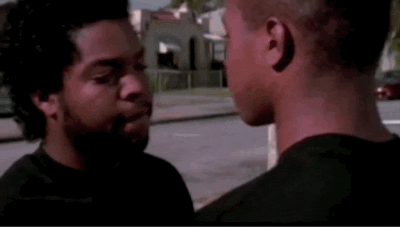 Ice Cube and Cuba Gooding, Jr. in Boys n the Hood (1991)